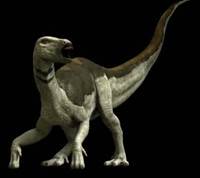 Tenontosaurus was a very, very large hyphsilodont.
Description
Edit
At 26 feet long, weighing about a ton and a whip like tail, tenontosaurus was a very daunting enemy, even for deinychus/terrible claw. Although it looks like an iguanodont, it's jaws actually put it in the hyphsilodont family. 
Its only defence was its powerful, size, tail and legs, but its neck and body was un-protected.
Classifacation
Edit
It is also classified as an iguanodont, even though it is a hyphsilodont. Its name means tendon lizard. As said above, tenotosaurus was like a lost chain between the hyphsilodonts, and the iguanodonts, like Ouranosaurus, and the more famous, Iguanodon.
It lived during the late Cretaceous period.
In Other Media
Edit
Tenotosaurus appeared in Jurrassic park.
Coming Soon!
Community content is available under
CC-BY-SA
unless otherwise noted.